Greetings Davidson-Davie Alumni!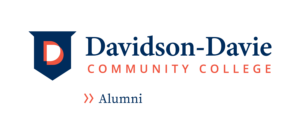 On behalf of Davidson-Davie, we congratulate you on your graduation and welcome you as a member of the Davidson-Davie Alumni! We want you to remain a proud member of the Davidson-Davie family!
The college Alumni program is open to any individual who successfully completes a course, certificate, diploma, or degree in continuing education or curriculum programs. Membership is 100% free, and just to be sure that you are connected: do we have your current address, phone number, etc.? If not, why not take a minute to update your profile and apply for your free alumni card in the form below.
You'll need your alumni card to take advantage of a variety of benefits that are available to Davidson-Davie graduates, at no charge, to help you in your next steps of life and career. We hope that you will take full advantage of the great resources available to you as Davidson-Davie Alumni!
---
Register as a new Davidson-Davie Alum or get a new Alumni Card
Please complete the below form to register your alumni status, update your alumni information or to request a new alumni id card.
Alumni Benefits
Membership to the Davidson-Davie Fitness Center

Admission to campus activities: speaker series, festivals & concerts

Access to free monthly webinars and articles

Career development services (resumes, career counseling, etc…)

Discounted rental rates for the Davidson-Davie Conference Center

Access to the Davidson-Davie campus Libraries

Invitations to Alumni sponsored events

Free Notary Services (email Foundation@davidsondavie.edu for assistance)